---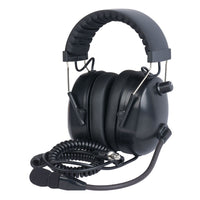 Quality PNR Helicopter Headset for Affordable Aviation!
PNR Helicopter Headset with NEXUS U-174/U plug
Soft and wide sealing Ear Pads filled with a high density foam to offer optimum sealing and low pressure.
Molded cord for exceptional pull and flexibility standard.
Noise-canceling electret microphone with amplifier.
Noise Reduction Rating (NRR): 24Db.
Articulating flex boom for perfect microphone placement.
Articulating Fulcrum on Ear pads for maximum comfort.
Ribbed extra soft foam head pad & high density foam windsock for mic included for wind noise prevention.
3 year limited warranty on material and workmanship.