---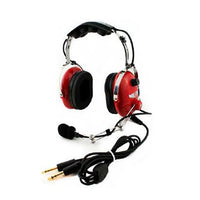 The Rugged Air 250 children aviation headset with 24 db NRR, Clear Hear performance audio speakers, volume control and 3.5mm music input jack for iPods, MP3 players, portable game consoles or portable DVD players. With Foam Fit ear seals, stainless steel headband and Deep Pocket ear canals children will enjoy the all day comfort of the RA250. Never miss a transmission with the superior Clear Hear 50mm audio performance speakers. Always be heard with the all new designed EM56 noise reflective cup microphone and wind block foam mic muff.
24 dB NRR hearing protection
3.5mm Music input port
EM56 noise reflective cup mic
Clear Hear performance audio speakers
Foam Fit comfort ear seals
Deep Pocket ear canals
Wind block foam mic muff
Stainless steel adjustable headband
Industry standard 3.5mm music input jack
7 year factory warranty
Rugged Air is bringing new audio technology with the same proven reliable cup and headband design. Finish it off with gold plated plugs, tough molded Y block, music input port, Total Shield cabling, and EM56 noise reflective microphone the RA250 is the perfect choice for all of your aviation adventures.