---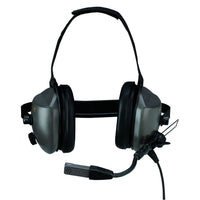 High Noise Environment Passive Headset
Our best passive noise attenuating headset preferred by motor sports race and pit crews around the world. Pit Crews have adopted this style of headset worn behind-the-head including NASCAR®, ARCA®, CART®, SCCA® and Formula One® because of their superior noise protection.

This behind-the-head style allows headset to be worn under a hard hat while maintaining a secure fit and clear communications.

Headset comes normally with an electret noise canceling microphone but can be ordered with an M101 or M87 dynamic microphone.

This style of headset can also be fitted with various 2-way radio plugs and can be worn under a hard hat in construction areas where hand held radios are in use.
Specifications:
Passive NRR 27dB
Microphone Type Noise Canceling Electret (Amplified)
Speaker Impedance 300 ohm
Cord Type 5 Foot Straight
Plug Type .25'' Audio Plug and .206'' Mic Plug
Boom Type Half Metal / Half Flex
Color Grey
Product Weight 11.9 ounces (337 grams)
Shipping Weight 2.5 lbs
Warranty 3 Years