---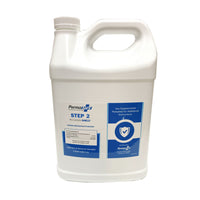 PermaSafe SHIELD™ is a Patented, EPA Registered Long-Term Antimicrobial Surface Protectant.

Upon application, SHIELD™ forms a Covalent Bond with the surface to which it's applied. Once cured it will not wash off and can last and remain antimicrobially effective almost indefinitely.

Unlike common disinfectants, SHIELD™ doesn't kill microbes by poisoning them with chemicals. Instead, it eliminates them through a patented "Electro-Mechanical" process, without the use of harmful chemicals.

The System as a Whole
PermaSafe is a revolutionary EPA Approved, multipurpose antimicrobial Surface and Air Protection System that:
Eliminates 99.999% of bacteria and viruses, plus odors and allergens
Makes interior surfaces antimicrobial and virtually "self-sanitizing"
Sanitizes HVAC systems & duct work and continuously purifies passenger cabin air
Repels and resists stains from liquids, dirt and other spills
Shields and helps extend the life of upholstery, carpets, and other surfaces
Eliminates and helps prevent the reoccurrence of odors, allergens, mold, mildew & fungi and …
AND IT DOES IT ALL WITHOUT THE USE OF HARMFUL CHEMICALS

PROVIDING AN ANTIMICROBIALLY COATING THAT IS EFFECTIVE FOR MONTHS!!!

The PermaSafe System is comprised of two distinct, yet equally remarkable, patented and EPA registered products: PermaSafe CLEAN and PermaSafe SHIELD.
 
A complete PermaSafe System installation is achieved by fogging both CLEAN and SHIELD, one product right after the other, throughout a vehicle's passenger cabin, a process that typically takes no more than 15 minutes, from start to finish.
EPA Document Link Available Upon Request.
 See Our FAQs on the PermaSafe antimicrobial Surface and Air Protection System