---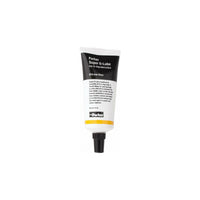 Parker's Super O-Lube is an exceptional all-purpose lubricant. It is not a grease, but a high viscosity silicone oil. It can be used as an assembly lubricant on all rubber polymers and offers some unique advantages.
Parker's Super O-Lube offers outstanding performance in service and has one of the most useful temperature ranges of any lubricant available. It can be used as an assembly lubricant as well as high-pressure systems or vacuums. Its inert nature lends itself to a wide variety of fluid systems. And since there are no fillers, there is no clogging of micron filters.
In addition to Super O-Lube's outstanding performance in service, it also gives protection to rubber polymers that are normally age sensitive when exposed to the atmosphere. This is a typical concern with ozone-sensitive polymers that require age control.
Used For lubricating o-rings on fittings and adapters in hydraulic fluid and gas handling connections
High-viscosity silicone oil that can be used with virtually any rubber polymer over temperatures ranging from -65°F to +400°F and -54°C to +204°C. 
Recommended for high-pressure systems. 
Heat resistance – up to 204°C (400°F)
Cold flexibility – Down to -54°C (-65°F)
All-purpose
Not easily washed away
Provides protection to age-sensitive polymers
Inert nature lends itself to a wide variety of fluid systems
Adheres with unusual tenacity
Highly moisture resistant
Will not clog 30-micron filters
Compatible with:

Epichlorohydrin
Fluorocarbon
Fluorosilicone
HiFluor
Neoprene
Nitrile
Perfluoroelastomer
Polyacrylate
Polysulfide
Polyurethane
Butadiene
Butyl
Ethylene Propylene
Polyisoprene
SBR (GRS)
Silicone
Note: Silicones require special consideration. Use only a thin film or Super O-Lube on silicone rubber if the temperature will exceed 300°F. 

Part Numbers: 65062986, SLUBE 884-2, SLUBE884-2