---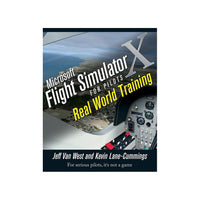 This fantastic book is real world training for serious pilots, not a game. Strap in and ride along as certified flight instructors Kevin Lane-Cummings and Jeff Van West raise the landing gear on this guide to using Microsoft Flight Simulator X. This book takes you through the pilot ratings as it is done in the real world: You start with Sport Pilot training, then Private Pilot, followed by the Instrument Rating, Commercial Pilot, and Air Transport Pilot.
Aspiring pilots will learn the skills of flight, how to master Flight Simulator, and how to utilize the software as a learning tool towards their pilot's licenses. Those who already have their real-world wings will benefit from guidance on how Flight Simulator X can be used as a continuing learning tool, how to simulate real-world emergencies, and how to use it for training towards advanced certifications.

These 750 pages are packed with detailed information on using Flight Simulator X for training, including:
    Introduction to flight operations
    The fundamentals of aircraft control and flight
    Performance takeoffs and landings
    Airport operations and working with air traffic control
    Radio navigation with traditional avionics and glass-cockpit technology
    Instrument approaches, including the use of GPS and glass-cockpits
    Commercial flight maneuvers
    Emergency situations you can safely experience only in a simulator
    Piloting high-performance aircraft and jets
    Using multiplayer and shared cockpits for realistic air traffic control and training
    and more...