---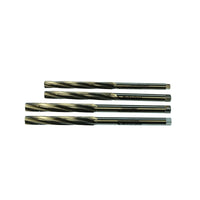 McFarlane - Valve Guide Cleaning Reamers for Lycoming Engines | VGRLCKT
Valve Guide Cleaning Reamers for Lycoming Engines
Why McFarlane Special Reamers?
McFarlane offers special reamers in the necessary sizes to clean your Continental and Lycoming engine exhaust valves. Standard reamers manufactured for aircraft valve guides are designed to perfect the guide hole size when reaming new guides. The standard reamer pilot is sized to fit the small bore of a new unfinished guide to insure stability and a straight finished bore. When this same type of reamer is used to clean the valve guides, the pilot is smaller than the finished hole. This causes the reamer to wander and misalign while it is being started and turned in the guide hole.
The patented McFarlane cleaning reamers have a pilot the same size as the valve stem. This properly sized pilot forces the reamer cutter to start straight and follow the correct valve stem path through the guide hole. Finally, a tool that is designed for the job!
While using standard reamers to clean valve guides, you probably have noticed that you have some valve guide metal in the reamer flutes afterwards. This metal is cut from the sides of the guide when hard carbon deposits displace the unguided reamer from the original guide hole, or the reamer was not started in alignment with the guide hole. Wavy or gouged guide holes cause premature carbon buildup, poor heat transfer, and early guide hole wear. Prevent damage to your valve guides by using McFarlane Cleaning Reamers!
Discounted pricing for a complete set

P/N VGR-LC-KT for Lycoming engines
P/N VGR-CN-KT for Continental engines

Spiral flutes for a better guide finish
Pilot sized specifically for cleaning
Cleans guides without notching guide surfaces
Constructed of precision ground, high speed tool steel
Patent # US 9878354 B1