---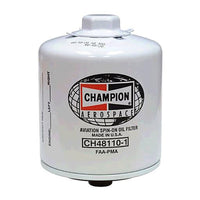 The Champion Aircraft Oil Filters have a proven full size design, and has been in use for 30 years. Magnetic secondary filtration system attracts steel particles too small to be caught in the filter media. Leaf spring technology for lateral stability of filter pack. Powder coated finish for durability, making Champion Aircraft Oil Filters  the primary aircraft oil filter for many operators
Champion - Aircraft Oil Filter | CH48110-1 Features:
Shorter Installed Height - Shortened can height by approximately 1/2", with no impact to the filter media's performance.
Improved Spring - Replaced old "leaf" spring with an improved coil spring design.
Thicker-Walled Can - Increased wall thickness for improved structural integrity
Stronger Center Tube - Redesigned center tube for added strength, with collapse pressures more than double the current design.
New Inlet Design - Changed four-hole design to an eight-hole design for approximately 30% greater inlet flow area.
Increased Lid Thickness - Increased thickness of seaming lid by approximately 35%, which subsequently provided for higher burst and impulse testing.
Improved Baseplate Thread - Replaced cut thread with an improved rolled thread, without affecting tolerances on the thread dimensions.
By-Pass Valve - Meets TCM Specifications
New Zinc-Plated Stud -Incorporated new zinc-plated stud for increased protection against rust and corrosion (applicable to Champion part numbers CH48110-1 and CH48111-1).
Champion - Aircraft Oil Filter | CH48110-1 Product Specifications:
UOM : Each
Manufacturers P/N : CH48110-1
Alt P/N : CH48110