---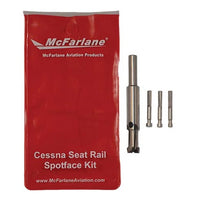 McFarlane - Seat Rail Spotface Kit | SPOTFACEKIT
The Spotface Kit tool makes a flat spot for screws. This tool is specifically modified to provide rail cap clearance for use on seat rails. Cutter comes with 1/8", 5/32" and 3/16" pilots.
Includes:
Cutter P/N 6080
1/8" Pilot P/N 6078
5/32" Pilot P/N 6076
3/16" Pilot P/N 6077
Pouch P/N 6090
For easier installation of seat rails see Seat Rail Templates, Rivet Kits and Screw Kits. For guidance on the replacement of fasteners, see FAA Special Airworthiness Information Bulletin CE-90-03R2.