---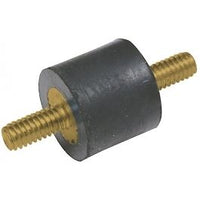 Lord Corp - Instrument Panel Shock Mount | J6984-64
Lord J6984-64 instrument panel shock mount with brass threads.
Cessna PN 1213645-1
Total Length    1 1/8"
Total Width    3/8"
Thread Lengths    1/4" and 3/8"
Thread Width    5/32"
Rubber Length    1/2"

For Cessna Aircraft:
182H-N S/N 21059200–61573
U206, A, E
210K, L Centurion II 
LORD mounts from LORD Corporation set the standard for elastomeric engine mounts more than 50 years ago. In fact, they defined it.
Today, genuine LORD mounts continue to prove themselves at all levels of general aviation. That's why most major OEMs spec LORD mounts from LORD Corporation. And, why an overwhelming majority of service shops use only original LORD mounts.