---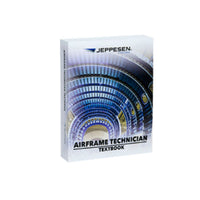 Jeppesen A&P Technician Airframe Textbook | 10002510 | JS312792
The Airframe Technician Textbook meets the requirements of FAR Part 147 curriculum standards. Information includes basic airframe concepts covering construction, flight controls, hydraulic and pneumatic systems, electrical and electronic systems and displays. This updated edition fully integrates practical aviation maintenance technician airframe skills with the theory of airframe AMT topic areas. 
Each section contains a summary of important points and selected questions to solidify retention of key concepts. The Airframe Technician Textbook is an ideal text for aviation technology schools and the AMT student or the seasoned aviation professional looking to add to their reference library. 
Enhance your knowledge with our comprehensive text that exceeds FAR part 147 standards. Color illustrations, charts, and diagrams make tough concepts easier to grasp.
Subjects covered in Jeppesen A&P Technician Airframe Textbook:
Rotorcraft structures
Winglets
T-tails
Composites
Flight control balancing
Expanded hydraulic and pneumatic system sections
Landing gear safety devices and maintenance
Nose wheel steering system
Fire detection systems
Electronic instruments
Electronic systems monitoring displays
Storm scope systems
Installation of communication and navigation equipment
876 pages
ISBN# 0-88487-205-1