---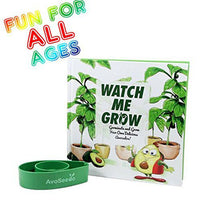 Everything Avocados! Fun Facts, Activities, Growing and More…
Take a look inside this awesome avocado book and learn everything, and we really mean everything, there is to know about the coolest fruit around.
We've got it all… the different types of avocados, how to germinate and grow them, some awesome recipe ideas, cool activities to do as well as some really awesome facts that will surprise you.!
Set includes: "Watch Me Grow" book, one AvoSeedo & paper flags.
Avocado pit not included