---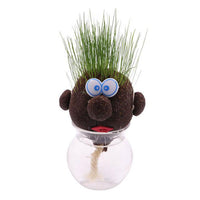 Make your own shaggy green friend with soil for brains and grass for hair. After a few days, the grass hair begins to sprout through the pouch and soon you'll be able to give your friend their first haircut.
Each Grass head contains sawdust, along with some grass seed which, when watered, sprouts like hair on the top of the Grass head character. Stand out with your secret holiday gift or give to a child as an educational eco gift that will cultivate some fun. You can have fun styling and trimming the grass as it grows to produce a hairstyle, or simply let it grow and grow. Package included: 1 X Grass Doll Potted Plant random face.

Educational as well as funny.
Easy to set up.
Being friendly and non-hazardous
Funny Grass Heads from Daniel Kalliontzis on Vimeo.