---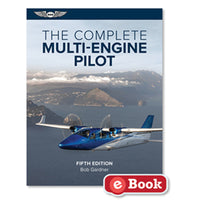 Pilots learning multi-engine flying have relied on this essential book for more than 20 years. Learn the fundamentals of flying multi-engine airplanes and the aerodynamic laws that govern multi-engine flight under Bob Gardner's experienced and energetic tutoring. This fifth edition includes a new chapter on energy management and information on obtaining the multi-engine rating and checking out in a new twin. An integrated flight and ground syllabus details the program for the rating and provides a sample written test, typical of the one used for new-aircraft checkouts. It also contains a complete library of FAA source material on multi-engine flight subjects. The Complete Pilot Series is designed for use in flight schools, for home study, and as a base for student kits.

From the Foreword by Barry Schiff: "By studying the principles Bob Gardner so eloquently discusses—and simplifies!—the challenging task of becoming a proficient and knowledgeable multi-engine pilot will become easier and more understandable."

Download The Complete Multi-Engine Pilot Syllabus to use with The Complete Multi-Engine textbook.

Instructors: Additional training aids to support your use of this book in the classroom are available at www.asa2fly.com/instructor/mpt

Also, by Bob Gardner:

The Complete Advanced Pilot
The Complete Remote Pilot
The Complete Private Pilot
The Complete Private Pilot Syllabus
Say Again, Please: Guide to Radio Communications

Copyright © 1995-2022 Aviation Supplies & Academics, Inc. All rights reserved.

eBook Specifications: 
Author Bob Gardner

ISBN 978-1-64425-197-3

Edition Fifth

Date Published 2022

Page Count 200 pages (print edition)

Illustrations Charts, drawings, photographs

Includes review questions for each chapter, glossary, index
eBook Instructions
Step 1: Get an Adobe ID (Already Have Adobe ID? Skip to Step 3)

You must install an e-reader application and authorize it with your Adobe ID before opening the ebook the first time. See "Installing an e-Reader Application" below.
ASA eBooks are for one person's use and can be read on up to five devices using e-reader applications compatible with an Adobe ID. The e-reader applications must be authorized with your Adobe ID to read ebooks on more than one device.
I need to create an Adobe ID or recover my ID information.
This button will open a new window. Return to this page to redeem your ticket once you have created your Adobe ID.
---
Step 2: Installing an e-Reader Application
You must install an e-reader application and authorize it with your Adobe ID before opening the ebook the first time.
---
Step 3: Proceed with Redemption
I already have an Adobe ID, and I'm ready to proceed with redemption.