---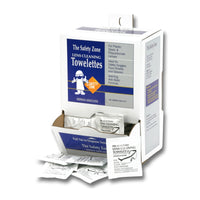 Towelette - Lens Cleaning 100bx | 930125ΓÇï
Radnor® Lens Cleaning Products are made of quality materials to help keep your optics clear, clean and scratch free. Clear vision is critical to safe work operation so don't take a chance, keep those lens clean with quality Radnor® products.
LENS CLEANING TOWELETTES provide excellent cleaning with no streaking. Each 5" x 8" individually wrapped towelette is permeated with an anti-static and anti-fog formula.
For use on glass, plastic, or polycarbonate safety goggles, shields, glasses, and computer screens.
RAINBOW's LENS CLEANING TOWELETTES contain no silicone, so it is safe to use on special coated lenses.
Convenient packaging fits perfect in tool boxes, tool bags, pockets, and glove compartments.