---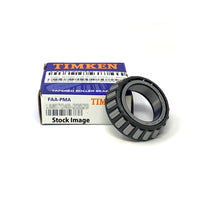 This is the most basic and most widely used type of tapered roller bearing. It consists of two main separable parts: the cone (inner ring) assembly and the cup (outer ring). It is typically mounted in opposing pairs on a shaft.
Specifications

Series: M224700
Cone Part Number: M224749
Design Units: Imperial
Cage Type: Stamped Steel
C1 - Dynamic Radial Rating (Two-Row, 1 million revolutions)1
C90(2) - Dynamic Radial Rating (Two-Row, 90 million revolutions)2
Approvals: FAA/PMA
Don't be tempted to buy cheapy automotive bearings

Because Timken uses the same base part number for both the automotive and aviation versions of these bearings, many people mistakenly use the lower quality automotive bearings in their airplane. Normally, Aviation bearing part numbers include the 20629 dash number. It is critical that the FAA-PMA Class 2 version be used for aircraft applications for two reasons:

They are a higher class of bearing with tighter tolerance and have been subjected to more stringent quality control procedures. Due to the smaller diameter of aircraft wheels, at a given ground speed the bearings rotate at a much higher RPM and require the tighter tolerances to prevent premature failure.
Example: At a 70 mph touchdown speed (equivalent to highway speed of a car), a typical 17 inch diameter airplane tire is rotating at 1384 RPM, whereas a typical 27 inch car tire is only rotating at 871 RPM. So even though the aircraft bearing is only subject to intermittent use, some of the performance demands are much higher than a typical automotive application.
It is a violation of FAA regulations to use non-approved automotive bearings on certified aircraft.