---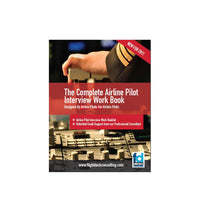 The Complete Airline Pilot Interview Course Workbook is an essential tool for any Airline Pilot Interview! The structure and delivery of your answers is essential to portray a confident and competent team member in your interview. This work booklet will guide you on how to structure your answers and deliver them in a clear, concise and professional manner.
The Complete Airline Pilot Interview Course Workbook Chapters include:
INTRODUCTION
THE PHONE INTERVIEW
THE PANEL INTERVIEW
FIRST IMPRESSIONS
THE FORMAT OF A TYPICAL PANEL INTERVIEW
HOW TO ANSWER THESE ESSENTIAL QUESTIONS

"Tell us about yourself"
"What do you have to offer our company?"
"Why do you want to work for our airline?"

BEHAVIOURAL QUESTIONS
TECHNICAL QUESTIONS
SCENARIO BASED QUESTIONS
TOP 50 INTERVIEW QUESTION
GROUP EXERCISES
HELP DESK
Of course, like all "Flightdeck" products, you will have access via email to our Principal Interview Consultant Sasha, who will answer any concerns you may have with your interview.
The Complete Airline Pilot Interview Course Workbook Product Specifications:
UOM : EA
ISBN: 9781463680435