---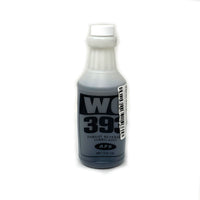 WC-393 Thrust Reverse Lubricant is especially suited for lubrication where high temperatures and friction are present. Does not contain grease, wax, silicone, or graphite. Reduces friction, prevents seizure, galling and scoring. Non-carbonizing fluid carrier volatizes without carbonization, leaving behind a residual lubrication film of molybdenum disulfide. Non-corrosive, non-gumming. WC-393 is also used on surge bleed valves. Ingredients: synthetic oil, molybdenum disulfide.

Precautionary Measures:
    Avoid contact with eyes, skin and clothing
    Avoid breathing vapors or mist.
    Keep container closed.
    Use only with adequate ventilation.
    Wash thoroughly after handling.