---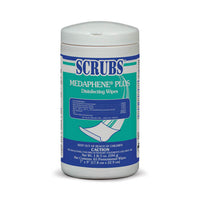 SCRUBS® MEDAPHENE® Plus Wipes - 65 Wipes | 96365
An effective germ-killing disinfectant combined with a strong, quilted wipe make up SCRUBS® MEDAPHENE® Plus Disinfecting Wipes. These wipes use a water-based formula which ensures surfaces remain wet longer to optimize disinfecting time. The wipe works quickly not only to loosen, but also absorb contaminants to ensure a clean and disinfected surface.
• One-step to sanitize, disinfect and deodorize
• Portable, safe and easy to use
• No spraying or run-off
DEODORIZING: Wipe hard, non-porous surfaces thoroughly to eliminate odors caused by organic waste and spills such as urine and fecal matter. Also eliminates odors caused by smoke or soot deposits, industrial plant processes, mildew and mold, and musty storage surfaces.
* Reference sell sheet for listing of kill claims and sanitizing/disinfecting times