---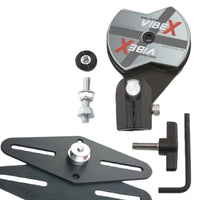 VibeX Mount
The Rock Steady VibeX mount cancels jello effect, stops global shutter, and isolates your camera from vibration. The VibeX mount solves high airspeed and engine vibration issues. VibeX Gel is engineered to completely isolate and stabilize your camera from the most common vibration frequencies effecting HD cameras. The patented VibeX gel design eliminates vibration where it matters most, at the camera! The patented design, along with the mounts rigid machined aluminum construction holds the camera rock steady in the most extreme environments. Years of testing on nearly every type of aircraft and vehicle has led to the perfect solution. Many electronic stabilizers are expensive and do not hold up. Your camera is only as good as your mount. There is no substitute to a good quality static isolation mount to kill jello. The VibeX mount is every professionals best tool.
Compatible with all Rock Steady bases.

Standard Adapter
The Drift cameras fit the VibeX mount easily with a simple stud adapter. One end of the stud adapter threads into the camera. A preset spacer is has been adjusted to the perfect distance to slightly compress the VibeX gel allowing maximum vibration isolation. A thumb nut holds the camera and adapter on the VibeX mount. Fits any Drift cameras, Garmin Virb 360, and other standard 1/4-20? cameras.

Rock Steady Surface Base
Rock Steady Surface Base for inspection covers & wing tips. The Rock Steady surface base allows you to turn any two existing fasteners into a secure and stable platform. Don't trust one screw holding your HD Camera in a high speed high vibration environment. Simply attach your camera to any 2 fasteners that are between 2?-5? apart. Just attach the base directly over a inspection cover or wing tip. A rubber gasket is included to protect your painted surface. Two included centering flush washers fit the base plate slots. Allows #6 to 1/4? size screws. When the camera mount is not being used, the surface base is low profile. Attach numerous bases to your aircraft for quick change camera locations. The surface base has been tested up to 250 kts.
This surface base is compatible with all Rock Steady mounts.