---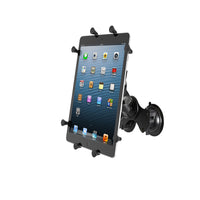 RAM Dual Pivot Suction Cup with Double Socket Arm and Universal X-Grip-Cradle for 10" Large Tablets
Part# RAM-B-189-PIV1-UN9-KRU
The RAM-B-189-PIV1-UN9-KRU consists of a dual articulating 3.3" twist lock suction cup base, double socket arm, and universal X-Grip-cradle for 10" Tablets. The dual articulating suction cup base is an amazing innovation in suction cup mounting. With the ability to independently articulate each suction cup, this mounting base can be used in a variety of applications such as curved windows and surfaces. Included are extra easy access grip knobs, located on the back of the cradle for quick release of your tablet.

The X-Grip-cradle is compatible with devices that will fit the dimensions listed below. It is important to verify the dimensions of your handheld device with a case/sleeve/skin when determining the overall size.


Cradle Dimensions
Minimum Width = 6.25"
Maximum Width = 8.1"
Depth = 0.875"
Maximum Length (using additional supports) = 10.25"