---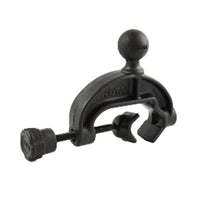 Both strong and light weight, the RAP-B-121BU clamping base is perfect for numerous electronic devices. Modular in design, switch out the clamps for a perfect fit no matter what the mounting surface, or add a second ball to mount another device; brilliant. Crafted to hold firm to most glare shields, yokes, or tubing, practically any aircraft can benefit from this product. Simple to use and exceptionally versatile, RAM has created another "must have" for any pilot. Once you've had a chance to use this great little device, we're confident you'll find uses for it no matter what you fly, drive, or ride. With everything you get in this package, you may even find yourself using your new RAM Mount on a golf cart, work bench, or even exercise equipment. With RAM, there are no limits.
What the RAP-B-121BU fits:
Rail or edge lip from 0.625" to a maximum of 1.25"
Material:
High Strength Composite
Ball Size:
1" Rubber Ball "B" Size
Note:
The "U" in the part number reflects product packaged in poly bag. The RAP-B-121BU also accepts a second 1" removable ball.