---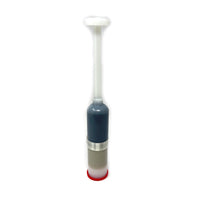 PRC Desoto - Emty Sealant Cartridge, w/Plunger, 6oz | 220325
Disposable plastic cartridges are available in 1, 2. 5, 6, 8, 12, 20, 32 oz.and 1/10 th gallon capacities. Available in low or high-density natural polyethylene, all sizes are fit with 1/4" NPT female thread dispensing orifice. Special colors are available, however minimum order, lead time, and pricing considerations apply.

The cartridges are capable of handling a wide variety of chemical fluids for storage and application and can be easily adapted to both pneumatic and manual dispensing systems. Semco® cartridges are commonly used in single component or pre-mixed and frozen applications with polysulfides, solder pastes, adhesives, epoxies, urethanes, greases, acrylics, etc.

CP and CWP cartridges are the standard Semco® cartridge with either a P or WP plunger inserted.This inserted plunger allows for filling from the dispensing end, reducing the potential for air entrapment and improving production rates.