---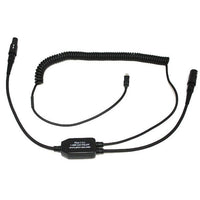 Garmin Virb Recorder Adapter for Bose (6 Pin Lemo) Headset
The Video Recorder Audio Adapter allows you to record all transmissions (local and remote) from the aircraft intercom system to your external Garmin Virb or Virb Elite Video Camera. It's great for creating your own aerial videos without excess cabin noise. It will record all of the audio transmitted through the intercom system, including in-cabin audio and ATC transmissions.

This is a special adapter made exclusively for use with the Garmin Virb or Virb Elite Video Camera. Most digital recorders have a 3.5mm AUX In for recording, however with the Garmin Virb they use a Mini USB port for recording. This adapter connects directly to the Garmin Virb Mini USB port instead of a 3.5mm port.

To be used with Panel Power headsets utilizing the 6 Pin Lemo/Redel connector such as the Bose X, Bose A20, or Lightspeed Zulu Panel Power version.

This adapter WILL NOT work with the GoPro Hero3 camera.
Product Weight 3.6 ounces (102 grams)
Shipping Weight 0.5 lbs