---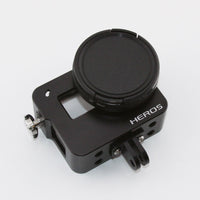 Standard plastic GoPro cases break frequently from prolonged vibration and UV exposure. Never loose your GoPro from a case failure again. The all aluminum GoPro housing is safe and secure. This case allows the backpack extended battery by removing the back door. FAA approvals are available with certain configurations. There are numerous 1/4-20 sockets around the housing that fit the Rock Steady Standard Ball Mount, or the included metal GoPro adapter fits the Rock Steady GoPro Ball Mount, Rock Steady Slim Mounts, and the VibeX Mount with GoPro adapter.
Our FAA Approvals for GoPro cameras require this case.
This case fits the GoPro Hero 5.
Want to eliminate that annoying propeller effect? Use the Standard ND8 prop filter. How does a prop filter work? An HD camera image sensor is controlled by the amount of light it senses. In normal lighting conditions, the scanning frame rate of any CMOS HD camera causes any fast moving objects to move during the scanning motion (frame rate) of the camera. Our filter tricks the lens sensor into increasing the exposure value of the camera. The brighter the conditions, the stronger the filter you will require. Our ND8 filter is chosen to work well in most sunny light conditions.
Case Includes:
UV filter with cover.
FF52 ND8 Prop Filter.
GoPro fork and hardware.
Aluminum case with back cover. (To use the larger battery just remove the rear door)
---
FAA Attachment Rating: SAS, FFT, FFM, or APA/B>