---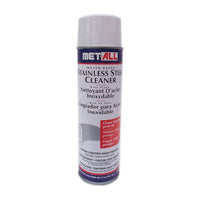 Met-All Stainless Steel Cleaner is a high quality aerosolcleaning material for enhancing the appearance andintegrity of stainless, chrome, aluminum, porcelain,ceramic tile and laminate.
CFC free aerosol for easy application
Environmentally conscious water-based formula
NSF Category Code C1, Registration No. 130183
Pleasant lemon scent
Removes dirt, grime, finger prints, oil and water based stains, and more ...
Met-All Stainless Steel Cleaner is great for:Kitchen equipment, drinking fountains, autos, trucks,trailers, laundry equipment, furniture, hospital, medicaland dental equipment, and much more ...