---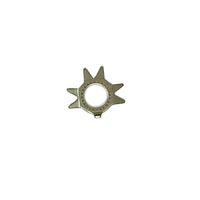 The McFarlane MC0851559-1 motor-mount lock washer provides enhanced performance with improved features. It has a textured side to maximize locking strength and minimize slipping during tightening. The design also centers the tab in the hole to reduce slack and rotation and prevent deformation or shearing. These features contribute to a more rigid and more dependable lock washer. Notable specs include: 

Features:
Up to 4 times the locking power compared to previous versions.

More robust material was used, allowing FAA approval to eliminate the need for a standard washer.

It is designed with six tabs instead of two, providing extra locking power.

Easy-to-use design.

Four lock washers are required per engine.
Specifications:
- Origin: Domestic (manufactured in the United States).
The McFarlane MC0851559-1 motor-mount lock washer is eligible for use in the following aircraft models:
Cessna 180: F, G, H, J, K

Cessna 182: E, F, G, H, K, L, M, N, P, Q, R

Cessna A182: J, K, L, N

Cessna F182: P, Q
This list may not include all eligible models; please refer to the aircraft's maintenance manual or contact the manufacturer for the most accurate details.