---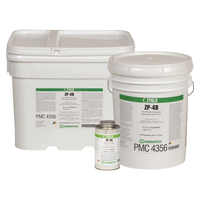 Magnaflux - Zyglo ZP-4B Dry Powder Developer, 10 lb Pail | 01-3328-69
ZP-4B is a free flowing, white fluffy powder used as a high sensitivity dry powder developer for Zyglo Penetrants.
ZP-4B comes ready to use, and when applied, it forms as a thin film, enhancing indications of ultrafine discontinuities. ZP-4B's high purity composition allows it to be used in applications where high purity is essential to the testing process.
Applications:Automobile Parts, Off-Road Equipment, Farm Equipment, Welds, Castings, Forgings, Leak Testing, Pressure Vessels, Aircraft, Marine, Construction, Maintenance, Petroleum Pipelines, Power Plant Inspections, General Metalwork.