---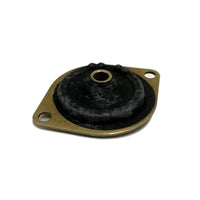 Lord Corp - Plateform Aircraft Mount | 100PDL-4
LORD Plateform Mounts provide effective isolation against vibration. The contour of the fl exing element was developed to provide uniform stress distribution. This, plus high strength bonding and the use of specially compounded elastomers, provides maximum service life. 
These versatile mounts are available in three types, each type featuring square, diamond or holder configurations to suit a variety of design requirements. The three types, Plateform Mounts, Heavy-Duty Plateform Mounts and Multiplane Mounts, offer a range in load ratings from 0.5 to 600 pounds.
Snubbing washers provide an interlocking system of metal parts which act to prevent damage from overload or excessive shock impact.
LORD Plateform Mounts are easy to install and provide space efficiency. Typical applications include electronic equipment, business machines, medical equipment and small pumps, engines and gen sets.
Product Specifications:
Max Axial Rated Load:   4 lbs. / 18 N    @ 1/16 in. (1.58 mm) Deflection
Axial Spring Rate:    64 lbs. / 11.2 N/mm
Part No.:100PDL-4 | 100PDL4
Part Category:Vibration Control
Part Section: Plateform Mounts
Part Series: Platform Mounts Series
Part Material: Diamond - 100 Aluminum
Snubbing Washer    J-2049-1