---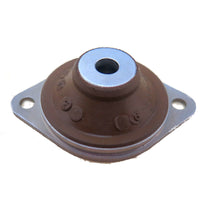 Lord Corp - Low Profile Avionics Mount | AM003-10
LORD mounts from LORD Corporation set the standard for elastomeric engine mounts more than 50 years ago. In fact, they defined it.
Today, genuine LORD mounts continue to prove themselves at all levels of general aviation. That's why most major OEMs spec LORD mounts from LORD Corporation. And, why an overwhelming majority of service shops use only original LORD mounts.
Lord Corporation low profile Avionics Mounts (AM Series) set the standard for compact, high-load, highcapacity isolators. They are designed to support and protect avionics equipment in all types of aircraft. Inertial guidance and navigation systems and radar components are examples of applications where these mounts are used. In addition, AM Series Mounts are used to isolate engine/aircraft accessories such as fuel controls, pressure sensors and oil coolers.
The low profile Avionics Mounts are tested and approved to the environmental tests appearing in MIL-STD-810 or MIL-E-5400. Tables show the sizes, capacities and the spring rates of these vibration isolators. They may be used in a temperature range of -65°F to +300°F for BTR and -40°F to +300°F for BTR® II. Low profile Avionics Mounts are made with specially compounded silicone elastomers which exhibit excellent resonant control. This is evidenced by the low transmissibility at resonance. These designs also provide linear deflection characteristics.