---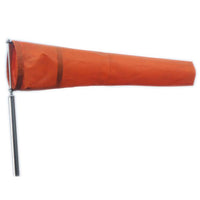 L W Spiro - Small Windsock Sock Only | ALWS118
Replacement sock only for L.W. Spiro's Small Windsock Kit.
Small, portable, calibrated windsock for determining accurate wind speed and direction in almost any location. The brilliant orange windsock measures 6.5" in diameter and is 27" long.
The windsock provides information in breezes as light as 2 knots, and is fully extended at 15 knots.