---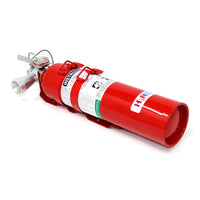 Just like Halon 1211, Halotron® 1 (HCFC Blend B) expels as a rapidly evaporating liquid and leaves no residue. Model B385TS effectively extinguishes Class B and C fires by cooling and smothering and it will not conduct electricity back to the operator.

Halotron® 1 is the most widely tested and accepted Halon 1211-alternative agent for streaming applications.

Do not use in confined spaces less than 350 ft3.
2.5 lb. / 1.134 kg
5.4 lb. / 2.450 kg
6-10 ft. / 1.83-3.0 m
9 sec.14.8 in. / 37.6 cm
5.0 in. / 12.7 cm3.0 in. / 7.6 cm
2B:C
Double Strap