---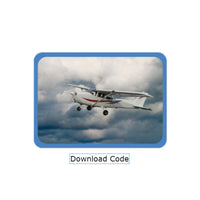 Gleim Pilot Refresher Course | GLM-726 | PPRC RS
PN:  GLM-726
ISBN : 978-1-58194-109-8
Getting back into aviation? Want to stay current? Preparing for a flight review? If you answered YES to any of those questions, the Gleim Pilot Refresher Course (PRC) will help you.

Who will benefit from the Gleim PRC?
CFIs who want to use a structured program for the FAA-required flight review (FAR 61.56)
Pilots who are getting back into aviation and want to know what's new
Pilots looking to keep their flying knowledge sharp
Pilots preparing for an upcoming flight review or aircraft checkout
Anyone who wants to increase their understanding of basic piloting knowledge
PRC uses your make-and-model's weight, balance, and performance charts. Thus, this course is an airplane-specific recurrent ground training course designed to increase pilots' safety, knowledge, and abilities.

Course Elements
A 5-10 minute audiovisual presentation
10 thought-provoking true/false study questions
Approximately 15 pages of knowledge transfer study outlines
A 10-question multiple-choice quiz
A Study Unit evaluation
To complete a study unit, you must:
Answer 10 thought-provoking true/false study questions. You will receive answer explanations that indicate why you answered the questions correctly or incorrectly. The true/false study questions are intended to help you to begin thinking about and studying the subject matter of the Study Unit. They also allow you to evaluate how much you already know about the concepts before you read the Knowledge Transfer Outline. Your performance on this section does not affect whether you pass the Study Unit or complete the course.
Print and study the Knowledge Transfer Outline for the Study Unit. The outlines are divided into sections called "subunits" to make studying them easier.  You can use the print function on your browser to print the outline by clicking Print under the File Menu. Use your printout of the Knowledge Transfer Outlines for future reference. When you have finished studying the outlines, you will be ready to take the multiple-choice final quiz. Note: If you need to refer to the outline during the quiz, click the "Outline" link near the top of the page to open the outline in a new window.
Pass the multiple-choice final quiz with a score of 70% or better. You will be presented with 10 multiple-choice questions based on the material you covered in the outline section of the Study Unit. You may move back and forth between questions and change your answers, but once you choose to grade the quiz, you will not be allowed to return to the questions. When you have answered each of the 10 multiple-choice questions to your satisfaction, click the Grade button at the bottom of the screen below the last question. Once you obtain a passing score, a review session will provide you with answer explanations for any multiple-choice questions that you answered incorrectly.