---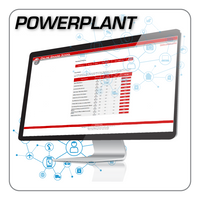 Gleim - AMT Online Course Test Prep, Powerplant | GLM-750-AMPΓÇï
The Gleim AMT Test Prep Online – Powerplant contains everything you need to pass the Aviation Mechanic Powerplant FAA Knowledge Test in a guided, easy-to-use online format. Designed to move you through the material effectively and efficiently, this course will ensure you master all relevant information. Audiovisual presentations provide overviews and prepare you for each study unit. Detailed outlines for each of the 20 study units ensure proper knowledge retention and can be used for future reference.
The Gleim AMT Test Prep Online uses our sophisticated Knowledge Transfer System to ensure that you master all the information needed to become a competent and safe AMT and pass the FAA knowledge tests with confidence. All topics necessary for certification are thoroughly explained. With extensive reference material and easy-to-understand audiovisual presentations, this online training course will help you pass your knowledge test while minimizing your time, cost, and frustration.
Study Units
Introduction to Reciprocating Engines
Components and Maintenance of Reciprocating Engines
Introduction to Turbine Engines
Components and Maintenance of Turbine Engines
Engine Instrument Systems
Engine Electrical Systems
Magnetos and Ignition Timing
Ignition Systems
Ignition Checks and Starting Systems
Lubricating Fluids
Lubrication Systems
Engine Fuel Systems
Carburetors
Fuel Metering Systems
Induction and Engine Airflow
Engine Cooling Systems
Exhaust Systems, Fire Protection
Powerplant Inspection
Propeller Components and Maintenance
Aircraft Propellers in Operation
Technical Specifications
Make sure that your computer meets all the System Requirements: Minimum System Requirements for online courses.
Test Prep Online is compatible on all operating systems and mobile devices or tablets with an Internet connection.
Test Center Emulations:
The AMT Test Prep Online allows you to take practice tests while emulating the actual exam interface at the FAA testing centers. There is no better way to prepare for your exam!
Gleim Guarantee:
Gleim offers you the best training materials available. When you complete this course satisfactorily, you will pass your FAA knowledge test. We are so confident that you will pass, that we offer your money back or a personal tutor if you do not pass on your first attempt.
This policy applies only to products that are purchased directly from Gleim Publications, Inc.