---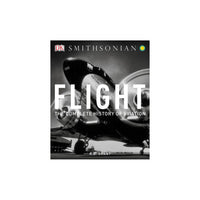 A visual guide to aviation and man's conquest of the skies, covering the earliest pioneers of flight to modern-day space technology. Created in association with the Smithsonian Institution and now in paperback.
Over 100 years ago, the Wright brothers flew in a shaky plane for the first time. Today, pilots can fly faster than the speed of sound, creating a sonic boom.

Filled with thousands of full-color photographs and fact-filled profiles on 300 aircrafts, Flight follows the history of mankind taking to the skies. From Da Vinci's drawings of flying machines to Charles Lindbergh's transatlantic flight in The Spirit of Saint Louis to the Boeing 767, this reference guide breaks down the complete story of aviation into easy-to-read facts and sidebar pullouts.

Study the advances in aircraft design, compare the times of record-breaking flights, see how airplanes became weapons of war, and follow the timeline of the space race.

Discover how we claimed the skies in Flight, from aviation pioneers of the past to astronauts of the future.
Item Weight : 3.22 pounds
ISBN-10 : 1465463275
Paperback : 452 pages
ISBN-13 : 978-1465463272
Dimensions : 8.44 x 1.05 x 10.06 inches
Publisher : DK; Illustrated edition (May 2, 2017)
Language: : English