---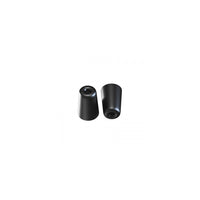 Made in the USA using proprietary memory foam materials for the ultimate in-ear communication upgrade.
Military-grade Comply™ Canal Tips are engineered to deliver maximum noise reduction for mission-critical communication. Extremely-soft, viscoelastic Comply™ foam conforms to the ear canal to maintain an acoustic seal and retain the device in the ear. Comply™ Canal Tips are the industry standard for communication in high-noise environments and the original foam tips trusted and used by the military for hearing protection and communication.
Best for Lightweight communication systems, High-noise Environments, Military, Audiology, Aviation, Industrial, and Medical Use.
Compatibility:
Fits all major communication brands such as CavCom, Communication Ear Protection (CEP), Clarity Aloft, Crai Spa, EuroSonit, Gentex, Gibson and Barnes, GSM Walker, Invisio, Motorola, OTTO, Savox, Selex, Sensear, Sensimetrics, Shothunt, Surefire, Silynx, etc.
Maximum Noise Reduction
With longer length than standard eartips, Canal Tips are engineered to create a custom, deep in-ear fit for maximum noise isolation. Comply™ Canal Tips offer the highest level of noise isolation with average NRR above 29dB. Actual NRR depends on communication device design and requires certified testing.
Enhanced Communication Ability
With an optimal seal for all high-noise applications, communication is funneled directly into the ear canal. Maximize your hearing experience.
All Day Comfort
Made from unique breathable memory foam, Comply™ Canal Tips are activated by body heat, becoming ultra soft, reducing irritation and fatigue. Comply™ Foam is 30x softer than silicone material.
Stay-In-Ear Fit
The length and tapered design of the Comply™ Canal Tip allows for easy insertion and stability in the ear canal, providing in-ear retention to keep communication devices in place.
Flexible Threaded Core
Special tapered core is designed for deeper insertion into the ear canal. Elastomeric cores have a molded-in screw thread for secure attachment to the communication device and soft durometer for comfort.
Specifications
Length/Height:
Slim: 14.6 mm ± 0.65 mm (0.575" ± 0.025")
Standard: 16.0 mm ± 0.65 mm (0.630" ± 0.025")
Large: 15.9 mm ± 0.65 mm (0.625" ± 0.025")
Width/Diameter of proximal end (end attaching to device):
Slim: 10.9 mm ± 0.50 mm (0.430" ± 0.020")
Standard: 12.7 mm ± 0.50 mm (0.500" ± 0.020")
Large: 14.2 mm ± 0.65 mm (0.560" ± 0.025")
Materials:
Polyurethane foam, thermoplastic elastomer (all RoHS compliant). Does not contain latex
Each package includes SIX tips. Compatable with Helicopter and Air Bus Models.