---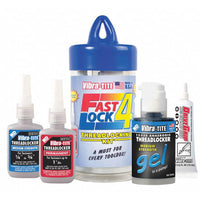 Expired Lot# VT27006_4317034
Expiration Date: 11/30/2019
A Must-Have Threadlocker Kit for Every Tool Box!
Vibra-Tite "Fast Lock 4" combines three of thier most popular anaerobic threadlockers along with DriveGrip, an anti cam-out fluid.
Blue threadlocker for when removablity is important.
Red threadlocker for permanent locking
Gel threadlocker allows for drip-free and waste-free application
DriveGrip helps to prevent stripped fasteners.
Kit Contains:
Medium Strength Removable Threadlocker - 10mL

High Strength Permanent Threadlocker - 10mL
Medium Strength Gel Threadlocker - 35mL
DriveGrip - 15mL