---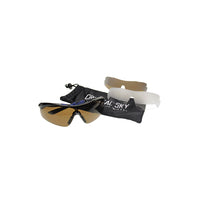 Full Set (3 Lenses and Frame)
Convenient, Lightweight Glasses. Portable and lightweight, these glasses are a superior option to flight training hoods or visors for both cost and convenience.
They easily slip on and off while effectively simulating instrument flight conditions, and are light and small enough to take anywhere.
The IFR lenses are frosted to partially block the wearer's field of vision, and the highbrow area prevents "peeking" while allowing for a full view of the instrument panel through the clear lens area.
Interchangeable Lenses and Free Carry Bag Included. The lenses are made from strong, durable and shatterproof polycarbonate that is also UV protected to save your eyes.