---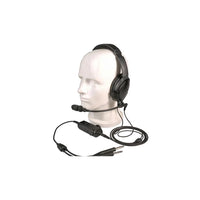 Crystal Mic Pro BlueWave is available NOW. Connect your phone wirelessly to listen to music or make phone calls. The system has 2 music settings:
1. Mix. Listen to both music and intercom simultaneously
2. Mute. Voice priority will mute the music when intercom activity is detected.
Fully modular system:
Intercom cables for General Aviation Headphone cables with 2.5 mm plug (AKG or Bose)
Other features:
Internal lithium ion battery with USB C charging (cable not included) provides 20+ hours of music playback
Dual volume control

The BlueWave adapter uses a technology that is similar to a system that is named after a famous Viking King. We are currently applying for the appropriate certifications and so we are unable to advertize the precise technology that the BlueWave uses.

***Mic attachment shown in the photo is not included, magnet attachment is included.