---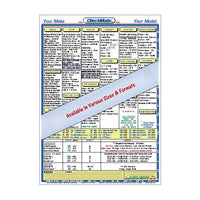 CheckMate Aviation's checklist for the Mooney M20M Bravo aircraft needs to be at the top of your list for pilot supplies in your cockpit.
CheckMate is one of the most complete user-friendly single-card checklist available. It is logical, concise, intuitive, and complete. With over 325 models of aircraft, you can be assured that you will find a CheckMate for almost any aircraft you want to fly. You have a graphical checklist that is the identical format for each plane you fly. The data will be exactly where you expect it to be. This provides a higher degree of comfort in flying - an important factor in aviation safety! CheckMate is available in 3 sizes for most aircraft:
Standard - (Single Engine 6.5'' x 9'' / Twin Engine 7'' x 9.75'') 9.25 font. By far, the most popular size. Will fit most tri-fold kneeboards but it is a tight fit.
Compact - (5'' x 7'') 6.5 pt. font. Nothing is deleted. Suggested only for those that can read small print.
Pocket - (3.75'' x 6.25'') 5.75 pt. font. Nothing deleted but print is very small. Best used as a study guide or as a backup checklist.
QuickMate - 5''x7'' plastic card ''abbreviated'' checklist designed for pilots who don't use checklists! Only the most crucial information listed. QuickMate does retain all the V-Speeds and Emergency Procedures of the CheckMate.