---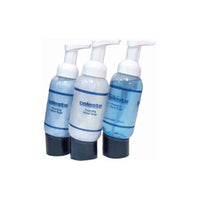 Celeste Flight Luxe Foaming Hand Soap - Spring Water -  8 oz - Each
Celeste Flight Luxe® Soap and Patented Soap System provide an elegant solution to lavatory and galley soap delivery problems. The above-the-counter system eliminates the mess associated with unhygienic soap bars and hard-to-maintain under-the-counter soap systems which are prone to clogging and potential bacterial buildup.

Conversely, the Celeste Flight Luxe Soap System has a functionally attractive, counter-mounted support base providing easy access for bottle replacement. Bases are offered in multi-bottle configurations to accommodate soap and other liquid products such as lotions, colognes or perfumes. Base options are multiple and varied and depend on space availability, personal preference, and whether they are being retrofitted or installed new.

Whether choosing to go with crème or foaming soap, straight or angled base, standard or anti-bacterial soap, the Celeste Soap System offers a number of features and benefits not often seen or available in airline soap offerings today.
Tamper resistant bottles
Recyclable bottles
Soap options include clear, pearl and anti-bacterial
Hand sanitizer options include alcohol and non-alcohol
Highest quality moisturizing soaps with easy rinsability
Hand sanitizers include emollient to leave hands feeling soft
Reliable pump performance
Easy viewing of soap level
Constant and complete soap turnover
Multiple base options
Base can be used with both soaps and hand sanitizers
Quick and easy bottle replacement
Numerous color and fragrance options