---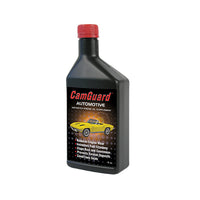 CamGuard - Oil Additive (Automotive), 8ozΓÇï
The collector car hobby is being enjoyed by a record number of people young and old. Vintage sports cars, high end European cars and classic muscle cars are filling garages the world over. The oil industry is making great strides improving oils for new cars, but inadvertently and sadly neglecting the needs of older technology cars. Collector car enthusiasts need protection designed specifically for their unique investment, which likely spends a majority of its time being admired (re: storage) rather than driven. 
CamGuard is designed to protect engines from things like the effects of extended storage, flat tappet camshaft failure, aging seals, and other related challenges unique to the technology of their time.  Read on to understand how CamGuard benefits all car engines regardless of age or type of use.
CamGuard Automotive is a blend of high performance additives that fortify modern engine oils to provide the utmost in engine protection. Modern commercial engine oil formulations are at best a compromise due to government regulations and costs. These constraints lead to reduced additive concentrations and subsequently reduced performance.
CamGuard Automotive delivers uncompromised performance using the most advanced additive technology available to dramatically reduce friction and wear, decrease deposit formation and prevent corrosion when used in today's commercial automotive oils.
CamGuard Automotive contains advanced antiwear additives that provide a dramatic reduction in wear when compared to current ZDDP (zinc) containing oils. This improvement in wear performance is especially important in older engine designs, using flat tappet valve trains, when using today's mandated low zinc oils. An additional benefit of reduced wear is less iron in the oil, which promotes oxidation and deposit formation.
CamGuard Automotive utilizes the latest generation of friction modifiers that provide a measurable increase in fuel economy throughout the oil change interval.
CamGuard Automotive contains powerful multi-metal corrosion inhibitors that prevent rust and corrosion in seasonally or infrequently used engines.
CamGuard Automotive utilizes advanced antioxidants to prevent cylinder varnish and ring belt deposits. This is particularly important in the hot running environment of today's higher output engines.
CamGuard Automotive provides enhanced protection in the face of high levels of NOx and fuel dilution. It is excellent for Direct Injection (DI) engines, which are hard on lubricants.
CamGuard Automotive contains seal conditioners that nullify the effects of heat and time to keep seals supple, flexible, and performing like new.
CamGuard Automotive is safe for use in all passenger car gasoline engines and will not affect modern emission systems.
The CamGuard Story began with CamGuard Aviation which was developed as an ultra-high performance aviation product.
CamGuard is the only lubricant product to undergo certification testing in the extremes of aerobatic use and the first product ever tested at large public gatherings. During certification nearly one million people witnessed CamGuard in action at air shows throughout the US.