---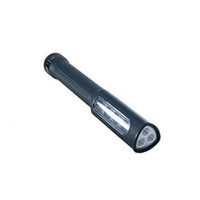 Bayco / Nightstick Dualmode Cordless LED Task Light | NSR-9850
This LED flashlight incorporates LED and battery technology providing professionals in Law Enforcement, Fire, EMS, Rescue Teams and Military operations with high quality, reliable hand held illumination.

 After hundreds of face-to-face interviews it has been confirmed that public safety professionals were eager for duty and patrol flashlights with significantly more reliability, utility and above all, enhanced personal safety. Failing bulbs and short run-times were the main safety concerns. This rechargeable LED Flashlight not only solves those problems but raises the performance bar for duty and patrol flashlights by including floodlight capability.

This LED flashlight is all LED for maximum reliability and dual-function for maximum utility. Medical grade Nickel Metal Hydride (NiMH) batteries power the LED flashlight. The battery pack has nearly twice the energy capacity, has no re-charge memory effect and accepts a fast charge.

The NSR-9850 brings together brilliant white-light LEDs that have an operating life of tens of thousands of hours. They are unaffected by impact and illuminate the object with no color distortion. The best halogen or krypton bulbs produce a yellow color light that distorts the appearance of the object being illuminated.


Dual-Mode Multi-Function
Tight focus 300 Lumens flashlight beam for long reach illumination
Broad beam 400 Lumens floodlight for wide area illumination
Activate both for maximum area illumination
Continuous or momentary flashlight

Ergonomic Design

Anti-roll tri-lobal case design keeps the flood or flashlight in the work area
Ability to illuminate around corners reducing vulnerability in high-risk entry situations

Tactile Switches


Obvious isolation between lighting modes and functions for confident operation while wearing gloves
High reliability switches for dependability, long life and reliable operation

Rugged Construction for All-Day Use


Engineered polymer housing with slip resistant checkered body for secure and balanced grip.
Optical grade, scratch resistant lenses Battery impact protection
Corrosion resistant alloy hardware
Water resistant
All LED Light Source

300 Lumens flashlight
400 Lumens floodlight
LED rated at 50,000 hours
Charging System


Fast charge rate - full charge in 3 hours from fully depleted state
Versatile configuration 12 VDC, 100 to 240 VAC at 50/60 HZ
Single cradle for desk or wall mounting or vehicle mount
Energy and function management system assures maximum energy capacity with no risk of over-charge and lower operating cost                                    

Battery Pack

Medical grade, rechargeable NiMH
Full charge every charge with no capacity degradation due to recharge memory
1000+ recharge cycles
Run-Time
9 hours to 18 hours depending on mode
Working Environment

Operating temperature range -30 degrees C to +60 degrees C
FCC approved Part 15 and 18, no electromagnetic interference with sensitive communication or acute care medical electronics
Physical Dimensions

Length: 13.6 in.
Weight: 28.0 oz.
Warranty

2 year battery and charger Lifetime on LED