---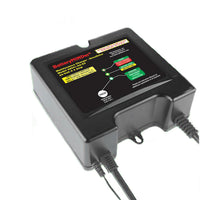 VDC Electronics now has available a Plug 'n Run Aviation Specific versions of its 24-V Maintenance Charger - De-Sulfator - Conditioners. Designated as the 24-V model 24041-AA-S3 Gill LT Series (Aviation Specific), it is similar to model 24041-AA-S1 except for its Plug 'n Run feature, eliminating the need to set neither the output current nor battery type, before operating. This feature is of particular importance if any person, unfamiliar with the setting requirements, is involved in maintaining the battery.

The model include full-time pulsed de-sulfation circuitry designed to safely dissolve sulfation build-up on the battery's storage plates, restoring lost cranking power and extending life. Our de-sulfation method is fully automatic, does not use potentially damaging high voltage and is exclusively protected by two U.S. patents.
For all size and type 24-Volt aviation batteries including sealed AGM-maintenance-free and filler cap maintenance type
Instant alternator condition at the push of a button.
Guaranteed never to over-charge, regardless of time or temperature (32°F - 125°F) with correct battery type setting and ABS-248 temperature sensors correctly installed on either battery terminal connection
Auto-restart after power failure
Safely charges up to 200% faster than conventional chargers
Maintains from 1 - 6 batteries at a time (parallel connected)
Automatically dissolves power-robbing sulfation using safe low voltage pulse technology (U.S. Patented)
Microprocessor controlled pulsed output ensures 100% full charge
Temperature compensation extends battery life by more than 200 Cycles (full charge-discharge cycles) with ABS temperature sensor1
High efficiency design = low monthly operating cost of less than 50¢2
Weather-proof enclosure
24 volt PowerPlug (fused) allows charger to be easily connected to battery via input 24-V power receptacle
1 year 100% money-back guarantee + five (5) year "no hassle" warranty3 Size/Weight: 5-1/2" L x 5-1/2" W x 2 1/4" H / 3.0 lbs.