---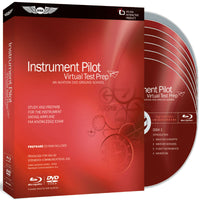 Virtual Test Prep–An Aviation Ground School brings the classroom to any home TV or computer DVD player. Instrument rating test, 2010 Edition.
DVD program contents: Weather, Weather Services, Flight Instruments, Navigation, Regulations and Procedures, Departure, En Route, Arrival and Approach, Test Tips, and Review questions. Total running time 07:30:54.
Courses available in this series: Private, Instrument, Commercial, CFI, Helicopter.
System Requirements: Television or computer DVD player. Compatible with both PC and Macintosh DVD systems.