---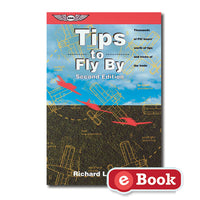 Author Richard Collins organizes his tip-filled text into the natural progression of a flight: ground work, takeoff, climb, en route, descent and landing. He then shifts focus to flying high-performance singles, twins, emergencies, busy airport operations, night and mountain flying, and much more. Collins concludes with his own selections and suggestions for airplanes, instruments, and cockpit necessities. This book imparts the flying savvy most pilots would need to log a thousand more hours to learn.

Pilot-in-command experience — thousands of hours at the controls of virtually all types of light aircraft in all flight conditions — is the main ingredient of this book by veteran pilot Dick Collins. He takes you to some of the tight spots in advance and lets you think through them ahead of time. Old hands can compare and add to their own experience; those new to the game can avoid some surprises.

Tips to Fly By offers techniques, performance tips and rules of thumb. For example:

How to devise a tailor-made preflight checklist for your machine, your flight, and yourself.
When to change altitude for optimum fuel management; effects of loading on performance.
What to watch for when flying low and slow; stall/spin avoidance.
How to move up to higher-performance single- and twin-engine aircraft.
Why night flying is really IFR flying.
When, why, and how to practice flying skills; obvious reasons often ignored.
... and much more, including the finer points of flying that make the most of your airplane and make you a better, safer pilot.

See other books by Richard Collins

Copyright © 1980-2020 Richard Collins. All rights reserved.

Part Number ASATIPSEB
ISBN 9781619542808
Author Richard Collins
ISBN 978-1-61954-280-8
Edition Second Edition
Page Count 224 pages
Includes Index
eBook Instructions
Step 1: Get an Adobe ID (Already Have Adobe ID? Skip to Step 3)

It is important that you install an e-reader application and authorize it with your Adobe ID before opening the ebook the first time. See "Installing an e-Reader Application" below.
ASA eBooks are for one person's use and can be read on up to five devices total using e-reader applications that are compatible with an Adobe ID. To read eBooks on more than one device, the e-reader applications on those devices must be authorized with your Adobe ID.
I need to create an Adobe ID or recover my ID information.
This button will open a new window. Return to this page to redeem your ticket once you have created your Adobe ID.
---
Step 2: Installing an e-Reader Application
It is important that you install an e-reader application and authorize it with your Adobe ID before opening the ebook the first time.
---
Step 3: Proceed with Redemption
I already have an Adobe ID and I'm ready to proceed with redemption.