---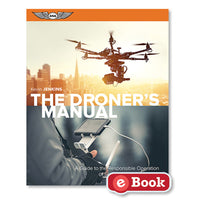 ASA - The Droner's Manual | ASA-UAS-DRONE
The incredible advancements in unmanned aircraft within the last decade have made it possible for almost anyone to build their UAV, opening up exciting business opportunities in numerous fields ranging from video production to agriculture. However, many beginners and even more experienced hobbyists find this daunting, as reliable information for the construction and programming of uncrewed aircraft is often scattered across various sources. The industry lacks established standards for the safe and efficient operation of small unmanned aircraft.
The Droner's Manual compiles the most essential and relevant knowledge into a guide for both beginner and experienced operators. With his expertise as a UAV operator for government, industry, and hobby uses, author Kevin Jenkins offers step-by-step guidance to build, program, test, and fly multicopters and fixed-wing aircraft for various purposes. This comprehensive manual covers unmanned system components, aircraft setup, flight controller fundamentals and failsafe features, recreational and commercial use regulations, the flight testing process, and flight operations. The more than 70 illustrations include detailed schematics and diagrams for constructing complex systems such as first-person view (FPV) and imaging payloads.
By following this book's direction on mission planning, checklists, and safe flight operations, you will fly with confidence. Whether you use it to build your first unmanned aircraft or as a handy reference in the field, The Droner's Manual is essential for drone builders, pilots, and operators.
eBook Specifications:

Authors Kevin Jenkins

ISBN 978-1-61954-434-5

Date Published 2017

Dimensions 7-1/4" x 9"

Page Count 176 pages
eBook Instructions
Step 1: Get an Adobe ID (Already Have Adobe ID? Skip to Step 3)

You must install an e-reader application and authorize it with your Adobe ID before opening the ebook the first time. See "Installing an e-Reader Application" below.
ASA eBooks are for one person's use and can be read on up to five devices using e-reader applications compatible with an Adobe ID. The e-reader applications must be authorized with your Adobe ID to read ebooks on more than one device.
I need to create an Adobe ID or recover my ID information.
This button will open a new window. Return to this page to redeem your ticket once you have created your Adobe ID.
---
Step 2: Installing an e-Reader Application
You must install an e-reader application and authorize it with your Adobe ID before opening the ebook the first time.
---
Step 3: Proceed with Redemption
I already have an Adobe ID, and I'm ready to proceed with redemption.