---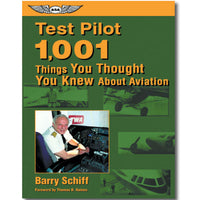 Organized into eight chapters, the book presents fun facts on the following subjects: History, Piloting, Navigation, Weather, Aircraft, Airlines and Military, Facts of Flight, Procedures and Regulations.
The author teaches new information, clarifies points commonly misunderstood, and provides a wealth of knowledge on the aviation industry.

Illustrated throughout with unique and entertaining photographs from Barry Schiff's own collection. Foreword by Thomas B. Haines.

Softcover, 400 pages.