---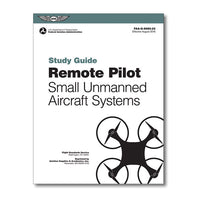 ASA - Remote Pilot Small Unmanned Aircraft Systems Study Guide Softcover Book | ASA-8082-22
FAA-G-8082-22 reprint. Study Guide for the Remote Pilot Knowledge Exam.
The Federal Aviation Administration (FAA) has published the Remote Pilot – Small Unmanned Aircraft Systems (sUAS) Study Guide to communicate the knowledge areas you need to study to prepare to take the Remote Pilot Certificate with an sUAS rating airman knowledge test.
Topics include: applicable regulations; airspace classification, operating requirements, and flight restrictions; aviation weather sources; effects of weather on performance; aircraft loading; emergency procedures; crew resource management; radio communication procedures; physiological factors affecting pilot performance; aeronautical decision-making and judgement; airport operations; maintenance and preflight inspection procedures.

Part Number ASA808222
ISBN 9781619544963