---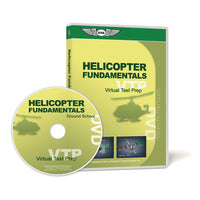 The Virtual Test Prep DVD Series provides a comprehensive aviation ground school to prepare pilots for the FAA Knowledge Exam and help them become better, safer pilots.
ASA's newest DVD ground school, Helicopter Fundamentals, guides viewers through the important concepts and vagaries of helicopter flight. This award-winning production makes explanations come to life with in-flight demonstrations and the latest 3D animated graphics. Aerodynamics are covered in detail from retreating blade stall to autorotation. Cockpit point-of-view footage helps viewers experience maneuvers from the pilot's perspective.
Helicopter Fundamentals supplements the airplane Virtual Test Prep ground school courses. Complete both the airplane and helicopter courses to prepare for private pilot, instrument rating, commercial pilot, or flight instructor (CFI) FAA Knowledge Exams. Used together, the courses provide everything needed to ace the Helicopter FAA Knowledge Exam.
Also includes a bonus account for www.prepware.com which allows the user to take 5 practice tests. Practice test results can then be used to receive an endorsement from ASA to take the Helicopter FAA Knowledge Exam.
DVD Outline
Basic aerodynamics
Helicopter systems and flight controls
Aerodynamics unique to helicopters
Performance
Weight and balance
Flight maneuvers and procedures
Hazards and emergency procedures
Federal aviation regulations
System Requirements: Television or computer DVD player. Compatible with both PC and Macintosh DVD systems.
Total running time 91 minutes. Interactive menus for scene/subject selection.